Serving great food and drink isn't enough to start a successful cafe, restaurant or coffee shop. You need exceptional staff that deliver high-quality service while making patrons feel at home. To reach your business goals, place an outsized emphasis on hiring employees and training employees to create an ideal customer experience.
If you're looking to staff a cafe, restaurant or coffee shop in a way that sets it up for success, here's a guide to best practices and what to look for in prospective waitstaff, managers, baristas, cooks, cashiers, and back-of-house restaurant employees.
What to Look for When Hiring Cafe Employees
No matter the type of food service establishment you run, there are characteristics that are universally valuable. When searching for waiters, managers, baristas, cooks and other staff members, look for the following 5 things:
1. Attitude
There's no substitute for an outstanding attitude. When you hire team members with great attitudes, their can-do nature means that tasks and duties are proactively completed, and that your team members will constantly look for ways to go above and beyond.
2. Personality
Patrons at restaurants, coffee shops and cafes want to feel welcome at the establishment. When you hire team members with beaming personalities, your cafe will naturally generate repeat business. This alleviates the need to pour marketing dollars into driving foot traffic.
Personality is great, but it needs to be paired with great people skills. Some of your guests will welcome a little bit of chit chat while they wait for food or a drink. But others prefer to keep to themselves. When your team members have people skills, they can read the signals a guest is sending — and provide them with the experience they will most appreciate.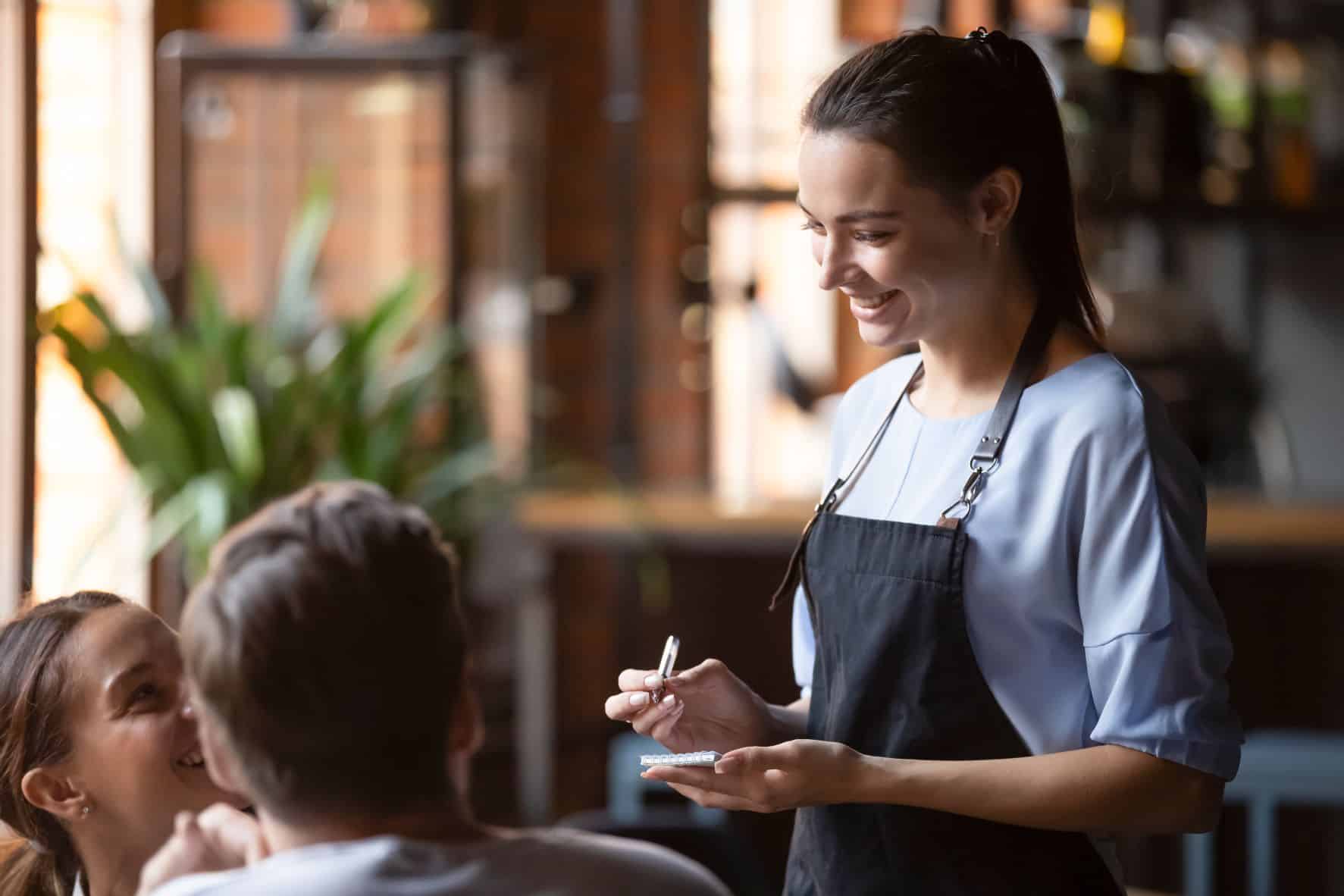 3. Reliability
Unreliable staff members can make day-to-day operations a nightmare at a restaurant, cafe or coffee shop. It's incredibly difficult to backfill an employee who no-shows on a shift, and there's a damaging trickle down effect from this situation. 
If an employee doesn't show up, your establishment is understaffed. If your establishment is understaffed, your guests will get a less-than-optimal experience — longer lines, long waits for food, difficulty getting staff members' attention, etc. This less-than-optimal experience reduces your repeat business.
Hire reliable team members, and you can avoid this downward spiral.
4. Experience
There's a reason "experience" is fourth on this list. Attitude, personality and reliability are undoubtedly more important when hiring employees. But the realities of food service can be jolting to anyone who has never worked at a restaurant, cafe or coffee shop before. If you can find someone who meets the 3 characteristics listed above and provides experience, you have a team member who you can reasonably expect can handle the stresses and challenges of food service.
5. Skills
Many of the skills needed to work at a bar, restaurant, cafe or coffee shop can be taught. That's why "skills" is last on this list. Still, there are some roles within a food service establishment that benefit from a rich skillset. It's nice to have a:
Bartender who can make any drink without looking up the ingredients

Barista who knows how to execute the perfect pour

Cook who delivers consistently delicious results
Yes, you can teach many of the skills needed in a restaurant, coffee shop or cafe. But, all else being equal, choose the prospective team member who brings skills to the relationship.
Effective Training Ideas
Turning new hires into outstanding team members doesn't happen by accident. You only realize the benefits of training employees if you follow the best training practices. Here are 10 employee training tips to get the most out of your staff.
Keep Orientations Fun:

No one likes to sit and listen to a manager talk and talk and talk about rules and regulations and procedures. Mix things up by using video, role play and other tactics. 

Create a Buddy System:

After hiring employees, pair veteran team members with new team members. 

Conduct Role Play:

Role play is more than just an effective training tactic for new hires. Role play can also be a valuable approach to ongoing education for your staff

Turn Memorization Into a Game:

When you hire team members, they need to know your menu inside and out. Make memorization fun by turning it into a game like Trivial Pursuit, charades or Jeopardy.

Get Newbies in Front of Real Customers:

There's no better way to learn than by actually doing. When a new employee starts, quickly get them into real-life interactions with customers.

Start Cross-Training Early:

You will inevitably have days when 2 or more employees get stuck in traffic, come down sick, etc.

Cross-training

restaurant and coffee shop employees helps you expand your team's capabilities when you're shorthanded.

Keep Training Sessions Short and Regular:

Day-long training sessions are a recipe for boredom. Find times for training sessions that are shorter and more regular — like during pre-shift meetings.

Create Competition:

If you have multiple locations, offer a prize to the location that increases net sales by the largest amount over a month. Don't have multiple locations? Create an internal goal and have your entire team work toward it for a month.

Use Peer Reviews:

Managerial feedback is important, but don't overlook the

power of peer reviews

. Peers often see, experience and know things that even the most in-touch managers will miss.

Stay in Touch:

The best way to train your team members is to keep in touch regularly. For example, use the pre-shift meetings noted above to drive home both new messages and old messages that have strategic importance.
Creative Ways to Increase Employee Retention
After hiring employees, your attention turns to limiting churn. Looking for creative ways to retain employees? It's far better to keep the quality team members that you have on your payroll than to go out and find new employees. Here's a rundown of 10 things you can try as ways to retain employees who are benefiting your business.
Create a Positive Culture:

When you focus on hiring positive team members, you'll find that

a positive culture

naturally develops — and that you have a knack for retaining employees.

Emphasize Work-Life Balance:

Keep your employees motivated and accountable to show up on time and do the work at hand. But make sure that you don't lose the human side of the employer-employee relationship. 

Give Employees a Sense of Ownership:

You can give them a sense of ownership by allowing for peer reviews (as noted above), and by regularly soliciting ideas for improving operations and feedback on how the establishment is operating in general.

Treat Team Members With Respect:

This goes without saying, but all employees deserve respect — from the lowest-paid and least-experienced team members all the way up to those who've been with you for years. 

Open Channels of Communication:

Employees like to know that they have a voice when they want or need one. Make sure you create clear channels of communication. 

Make Advancement an Opportunity:

Do your team members have opportunities for growth at your cafe, restaurant, bar or coffee shop? If they do, they will be far more likely to engage and put in the effort needed for advancement. 

Set the Example at the Top:

Your manager will be your highest paid and most important employee. Spend time making sure that your manager can set the right example for the team. 

Create a Recognition and Reward Structure:

Find reasons to celebrate your team members on a regular basis. Many restaurants, cafes, bars and coffee shops do this by naming an employee of the week or an employee of the month. 

Get Creative With Benefits:

Go

beyond traditional benefits

by offering gym memberships, transit stipends, extra life insurance, plus other perks. These additional benefits go a long way toward your employees feeling appreciated in their roles.

Offer Regular Pay Increases:

This is the simplest way to retain employees: Share in your business success by offering them more money. 
Create Amazing Training Videos With Bites
Short, impactful videos are one of your best bets for effectively training both new and existing employees. Using Bites, owners and managers or bars, restaurants, cafes and coffee shops can create engaging, professional video content that shares best practices and reinforces culture and expectations.
Getting started with Bites is free and easy. Create training videos that make a difference.