What is safety training?
Safety training refers to the training program for employees to learn about precautionary processes and procedures and practice their applications to mitigate risk or the chance of injury on the job. Safety training is an important module of an organization's compliance training program. Effective and modern safety training can offer protection to an organization and its people.
The U.S. Occupational Health and Safety Act (OSHA) went mandated workplace safety training in 1971. Employers are obliged to provide safety training to employees in simple and lucid vocabulary in a language they understand. In the post-pandemic era, it is more important than ever to train employees in safety procedures related to hygiene, food safety, fire, and other common accidents in the concerned industry. Private industry employers reported around 2.9 million nonfatal workplace injuries and illnesses in 2016. Safety training is an effective solution for preventing such mishaps.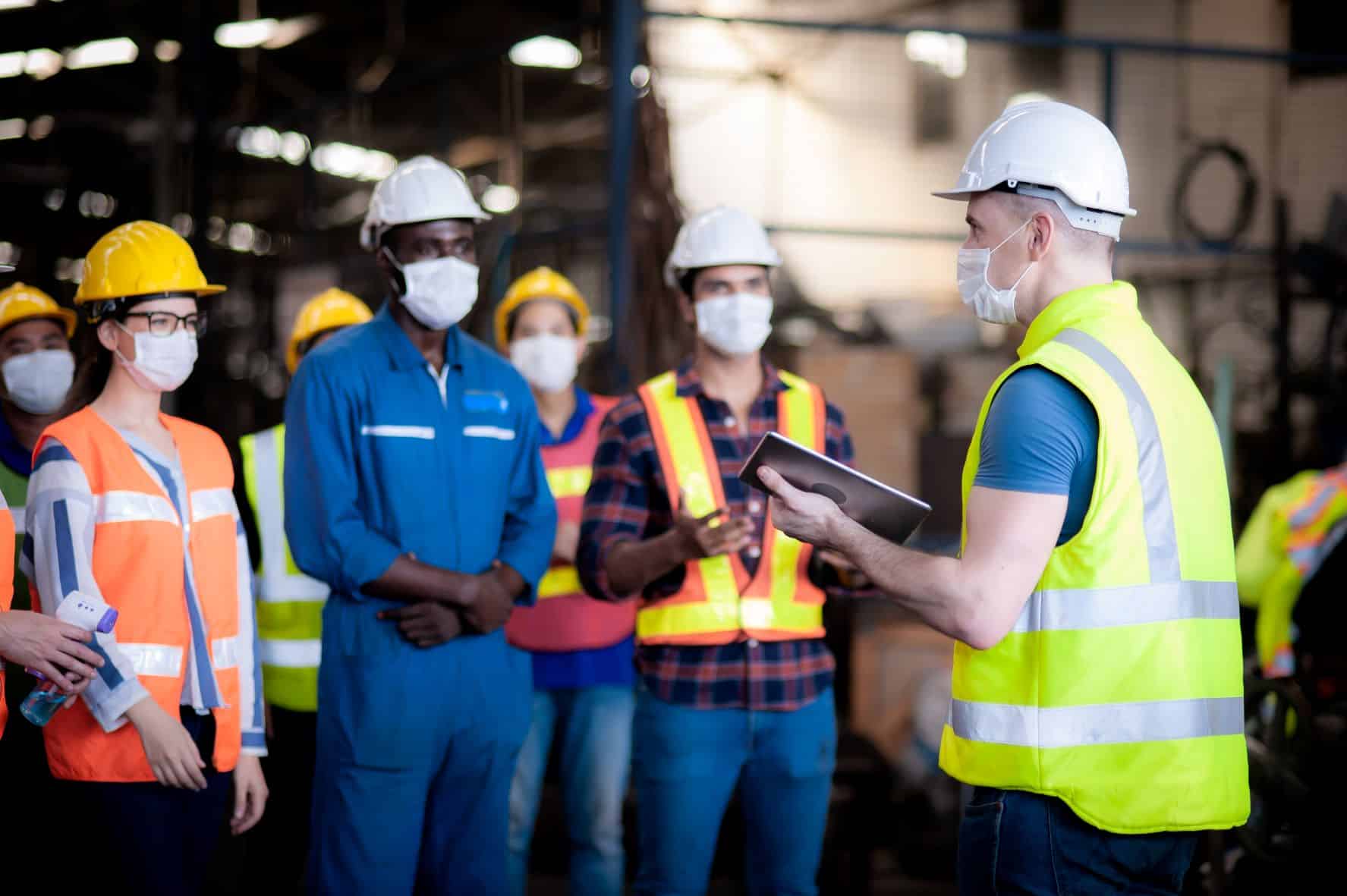 Why is safety training important?
Implementing an efficient safety training program can benefit the organization in the long run and have a positive impact on employees. Updating the program is essential if you want to ensure that your employees take the most effective precautions.
Safety training in the workplace has the following advantages:
·        Reduced turnover:
Employees will be likely to stay longer at an organization that cares about their safety and well-being. You will also not lose employees to workplace accidents and mishaps. Employee satisfaction is directly proportional to employee retention.
·        Better productivity
Safety training ensures that employees adopt the most efficient methods of carrying out their duties without putting themselves at risk. Employees who are assured of their safety will be more motivated and hence work harder, guaranteeing better productivity. There will be lesser productivity loss because of injury or illness.
·        Increased morale and employee satisfaction
For the organization to be successful as a whole, it is important for the workforce to feel like they belong to a community. Effective safety training reminds employees that they are cared for which will boost their morale.
·        Develops team spirit and communications
Safety training teaches employees that they have to work together as a team and care for each other's safety. This helps build team spirit. Proper safety communication can also be profitable for the organization in the long run. Studies show that $6 can be saved for every $1 invested in safety communications.
·        Legal protection
As stated before, organizations are responsible for training employees in standard safety procedures. Workers who are injured or harmed at work because of lack of training can sue the organization. This means that investing in safety training will protect the company from liability lawsuits later on. You will also notice a reduction in the workers' compensation sanctioned by the company because of work-related injuries and illnesses.
Different topics to cover in safety training
There are different types of safety training modules that you have to consider. The following employee safety training topics have to be covered in your program:
1. Workplace ergonomics
Ergonomic workplace injuries can lead to costly compensation claims and productivity loss. According to OSHA, ergonomic injuries like carpal tunnel syndrome, sprains, and hernia cost companies 45 and 50 billion dollars annually. Ergonomic workplace safety training ensures that your employees know how to move about the space efficiently without causing long-time harm.
2. Fire safety
Fire safety training is mandatory for employees so they know how to take care of themselves and those around them in case of a fire emergency.
3. Violence prevention
According to the FBI, around 2 million people in the U.S. are victims of workplace violence every year. Domestic violence has also made its way into the workplace, making women the target for violent behavior more frequently. OSHA finds homicide to be the leading cause of death for women at work. Safety training has to prioritize workplace violence prevention and ensure that all employees are aware of how to behave and maintain etiquette at the workplace. It is important to make it clear that any sign of violent behavior will be severely penalized.
4. Environmental safety
Teaching employees about environmental safety ensures that they know how to optimize the available resources without causing harm to their environment. It is especially crucial for companies dealing with hazardous materials.
5. Equipment safety
Employees should have the skill and knowledge to use job-specific equipment safely before they are assigned responsibilities. They will get better at handling specific equipment with more hands-on experience, but they have to know the safety rules for the machine in concern.
6. Employee health support
Organizations that offer resources for mental and physical health to employees are more likely to gain employee loyalty. Offering support is the best way to show employees that you care about their well-being, both on and off the job.
7. Online security
You cannot ignore the importance of online security or cybersecurity in today's digital era. You have to include cybersecurity in any modern training program to ensure that your employees do not get into trouble online. Cybersecurity training protects your employees, your customers, and your organization as a whole.
Safety training ideas
If you are planning to implement a great safety training program that will be effective and engaging, the following ideas will help.
1. Video Learning
Video learning is one of the best educational tools you can use when teaching skills and practices that the learners will have to implement. Visually immersive content is more likely to keep employees engaged, and they will retain the knowledge for longer. Bites is an excellent video learning platform because it allows you to record and edit personalized training modules.
2. Mobile Training
Mobile training gives greater access and flexibility who want to learn and train on the job. Mobile training ensures that learners can access the training materials whenever and wherever for quick reference when they need to act urgently.
3. VR and Immersive Learning
Virtual reality (VR) technology can revolutionize safety training programs forever. VR makes it possible to develop safety training scenarios in virtual reality, allowing employees to practice what they learn in a safe, instructive environment. This leads to immersive learning because the trainees benefit from practical experience without causing any harm to others.
4. Gamification
Games are sometimes the best way to test knowledge in a fun but informative manner. Quizzes, activities and roleplay games tend to be more engaging and effective when it comes to employee training. It also develops a healthy spirit of friendly competition so that employees are always updated.
Food safety training for employees
Food safety training is mandatory in restaurants and other food-related businesses. Naturally, Health Inspectors hold food businesses to a higher standard because they have to meet federal, provincial and municipal laws and regulations. If you fail to train your employees properly in food safety, you will run the risk of facing legal problems. Unless employees meet food safety or hygiene standards, restaurants can even be shut down.
To ensure that your employees make no mistake when it comes to this crucial matter, you can introduce a food safety training program for food handlers that will cover all the basics.
Why is it important?
You have to prioritize food safety training for the following reasons:
Employees in food-related businesses have to handle chemicals, broken glass, bacteria, toxins, viruses and other germs. Food safety training offers protection to the employees, the customers, and the business itself.
A national survey by the Consumer Reports National Research Center found that diners complain mostly about dirty tables, utensils or restrooms and poor personal hygiene of food handlers. Food safety failures can damage your reputation and cost you a lot of money in the long run. Your employees have to know the most efficient way of practicing safety so they can maximize the available resources.
Restaurants that are unable to conduct allergen management tend to lose customers. Food allergies can be life-threatening, and employees should know about the most common food allergens. They have to communicate with the customer clearly to ensure that all safety measures are taken properly.
Every food safety training program teaches employees how to keep the kitchen clean. If the kitchen is unclean and messy, it can put employees at risk. They can injure themselves with sharp objects lying around or fall prey to diseases because of bad hygiene practices.
Online fire safety training
Fire safety is one of the most important topics to be covered in safety training. Your employees should have the skill and know-how of handling a fire situation because their actions will determine how customers react. Fire safety training is all about teaching employees what to do during an emergency.
Fire safety has to cover quite a few important topics:
Precautions to prevent fires
Correct procedures to follow in case of a fire
How to stay safe and protect others
Best escape routes
If you prefer to train your employees online, you can use video conferencing tools or virtual learning platforms to deliver online fire safety training. It is important to use video learning when teaching fire safety because practical demonstrations help employees understand what they are supposed to do. You can also use a video learning solution like Bites to record short videos covering all the fire safety basics and monitor your employees' learning habits.
Importance
Fire safety training ensures that your employees feel safe when they come to work. Knowing that everyone in the office knows how to act during an emergency fire is reassuring. An official training program also guarantees that employees know what tools are available to them to remain safe during a fire. Regular refresher courses ensure that employees do not forget the necessary protocols and regulations.
Ideally, your employees should never have to experience a fire, and the key is to educate them about the best fire prevention practices.
Tips regarding safety training for employees
If you are unsure about how to set up a safety training program, the following tips might help:
Identify the safety hazards affecting your workplace and industry. Inspect the space and conduct a job hazard analysis to understand which topics to prioritize.
Make sure that the ultimate goal is to eliminate or reduce the hazards altogether and train your employees accordingly. Set up learning objectives and convey them to your employees so they are aware of what is expected of them.
Regulatory agencies such as OSHA or MSHA establish certain safety training regulations and requirements. Your training program has to comply with them.
Blended learning solutions are ideal for training your employees in safety procedures and protocols. Combine virtual learning, field-based training and instructor-led training to get the best results.
Take your employees' preferences into account when creating your safety training program if you want them to take it seriously and be engaged. Set up a flexible schedule and learn the preferred learning method for employees to make your training more effective.
Safety training requires active learning. Passive, theoretical learning is not beneficial because employees either forget what they learn or are unable to put the knowledge into practice. Participating in discussions and performing hands-on training ensure that employees know how to adopt the practices required for safety.
Live demonstrations and roleplay are excellent tools for safety training because employees learn how to conduct themselves in an emergency.
Why Bites?
Bites is a unique online training solution you can use to deliver safety training to your employees. Built on the dual principles of video learning and microlearning, Bites allows you to create short training modules and share them with your employees directly. The videos can be how-to or instructional in nature or you can offer live demonstration of safety actions. Since Bites has an analytics dashboard, you will be able to track the learning patterns of your employees and ensure that they are up to date. The learners can engage in discussions in the online forum and you can also conduct quizzes via the platform.
Try Bites today!